Silver Lady in Scotland
An account of her journey, as featured in 'The Biggest Little Railway In The World'
By Chris Lee
A behind the scenes look at one of the toughest challenges a Roundhouse locomotive has ever faced. Roundhouse Engineering is based in Doncaster, a town well known for its railway past and birth place of some of the most famous steam Locomotives ever built. We hope that the Silver Lady can now be counted amongst them.
It was in early April 2017 when we were first made aware of a crackpot idea to build an O gauge railway 70 plus miles across the Scottish Highlands. Having seen the leaflets we naturally wondered what if? but little did we know of what was to come. Several weeks had passed when the phone call came in from Love Productions, the production company in charge of the project, to ask us would it be possible? Roundhouse locomotives are well known for their years of service, with locos still running some 35 years after leaving the factory in Doncaster. So seventy plus miles seemed liked no problem! As details came in relating to the challenges and obstacles that the engine was to overcome, talks began to centre around which locomotive would best suit this epic adventure.
With a wide selection of working steam locos to choose from, the production company first had eyes on something powerful and spectacular. The Darjeeling Garratt, one of our more recent models, caught the production teams eye due to its look and power but it was ultimately dismissed due to the weight and time consuming servicing. Looking at a smaller size locomotive, with some modification, Silver Lady seemed to fit the bill perfectly. She already has a sprung chassis for extra traction, a water top up system to help keep her going and was easy to service.
At this point the track gauge had already been set and produced at O gauge or 32mm. Samples were sent to the factory for us to experiment with and test what gradients Silver Lady could climb. Plastic extruded track with rubber capped rail gave the first advantage and allowed her to climb steeper gradients than we would recommend on regular track, however she still fell short of climbing the 12 degrees required. We then machined a knurled pattern into the tyre profile of the wheels allowing her to climb like never before, limited only by her own weight and working pressure of 40 psi. Other modifications included a modified lubricator to save time and burnt fingers, removing the simulated drain cocks and a cog wheel which was provided by the production company.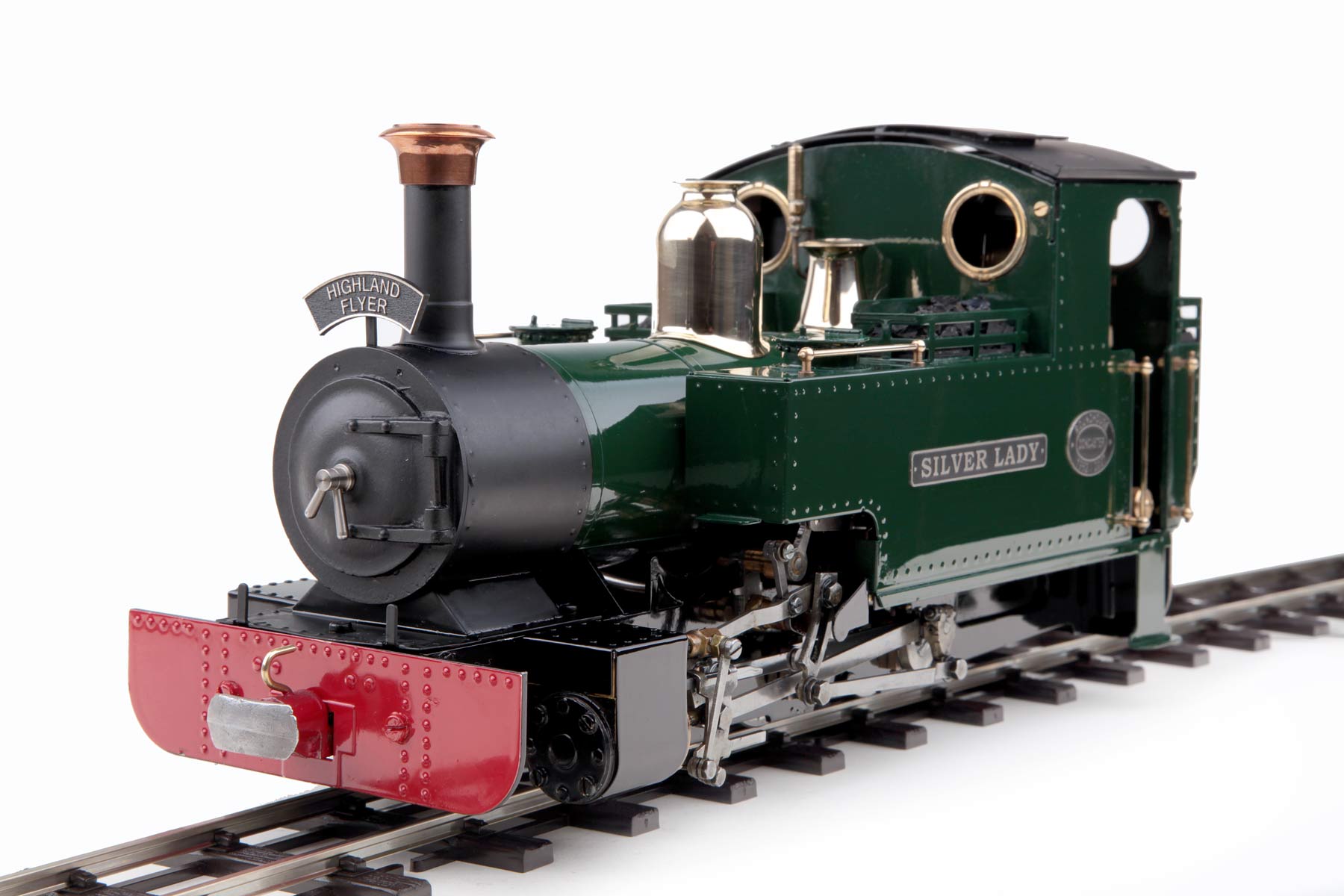 The Silver Lady - Highland Flyer Edition
Reality check: this is TV, so yes as some have noticed, there was a twin on set. One was set for the main run with the standard wheels and the provided cog wheel fitted to the centre axle. This is the one that started and finished, went swimming and covered around 80% of the distance. The second was set up with the knurled wheels only, so did the hill climbing and stepped in when the main loco was in desperate need of some care. When the gradient simply became too much to overcome her own weight, mechanical assistance stepped in.
As the time to head North came closer and more details became available, the size of this challenge became more obvious. The original plan was for Harri, our general manager, to go up to Scotland and demonstrate how to run the engine, the basic maintenance tasks and see them safely returned to the factory once the project was completed. Only days before leaving and having seen the remote controlled boat on its way north we began to change our plan. We know a Roundhouse loco can cover this distance but we were looking at pure torture for this little engine so she was going to need some support, someone to deal with the unexpected and solve it quickly. As Harri had to remain behind to run the factory and with some 11 years as a Roundhouse Loco builder under my belt, the honour fell on my shoulders.
With no idea when I would return, the bags and more importantly 'The' toolbox was packed with as many spares as we could think of. This ranged from the basics that come with every Roundhouse loco, to spare screws and crank pins that are bound to get lost in the undergrowth. Having seen the model boat that was to be used to cross the canal, 3 or 4 sets of spare RC equipment, servos, switches and other electrical items were packed. Also included was; a spare boiler (ultimately not needed), domes, filler plugs, top up valves, coupling rods, connecting rods and countless others. Then there were 18 canisters of Gas, 6 bottles of oil, 6 water top up bottles, umpteen batteries and the spare underpants.
Silver Lady prepares to set off from Fort William
From the moment I arrived in Fort William on Thursday evening the challenges began, foremost being the communication problems due to weak or no phone signal. The rest of the team had been there since Monday and by now was spread over an area of more than 20 miles, which increased as the days passed. These two facts together meant it became very difficult to contact the person you needed. Friday, just after 1pm, saw the start of our intrepid journey sending the Silver Lady on its way, "Inverness here we come". All seemed good until I was handed someone's mobile at around 4pm..."she's in the canal".
Logistics meant I was reliant on someone to get me there and being told about the sequence of events second hand ("she only got her feet wet" I was told). Once back at HQ, the community centre in Capuche, I duly gave her the once over to find all was surprisingly okay. However in all the excitement and confusion I just didn't think to light the gas system and later came to regret it. Day two started with me taking my own transport followed by an embarrassing ear chewing from a certain Mr Strawbridge for not lighting the engine the night before and rightly so. Within less than 15 minutes the body and burner were removed, water cleared from the burner, gas jet replaced, lit and sent back on her way. This showed we had made some sound decisions beforehand with regards to the number of spare parts I was carrying and it was agreed I should stay with Silver lady as much as possible.
After walking a few miles with the loco I decided to place the heavy tool box full of spares on the Quad bike I had been walking alongside whilst chatting to the driver. We kept our distance, following the film crew up the tow path. It was whilst repositioning the bike to move along the canal that disaster struck again. For whatever reason the throttle stuck in reverse and with the narrow canal towpath the driver had little time to do anything, losing control and going over the bank backwards. The driver deserves credit here, not poking with a stick as he was lucky to walk away with minor cuts and bruises. He also managed to save all the Roundhouse spares and spare loco along with other equipment, however we did lose our snap (Ed: Snap=food). This could easily have been something that prevented us from reaching our goal...staged it was not! For the rest of the day everything had to be carried with us and as for the smart decision to take the car, well that was some miles back down the tow path. Again, logistics was the enemy.
Quad bike retrieval in action.
This challenge was becoming something else - there were 56 volunteers and over 150 people including various camera and sound crews, caterers, security production staff runners/gofers and more. Now think of the distance 70 plus miles on Scottish roads - this was an hour and a half to a 2 hour drive. Then add in forestry logging, hiking tracks and canal tow paths all leading you further into no man's land, having to travel miles in the wrong direction to get around the Scottish lochs and back again. Camp could be an hour and a half away and by the time snap had arrived if something had been forgotten then it was tough luck. Hot water, but no tea or coffee, hot meals without knives and forks. Sound simple doesn't it but how many times have you walked out of the chip shop and forgotten the fork? It becomes an impossible task to nip back and get one. For all the planning and preparation this was no mean feat to pull off and no sooner were we settled, it was time to move on. Yes, things went wrong and I'd quite happily join those asking "Why didn't you do this or that?" But step away from your comfort zone and into the wilds of Scotland and make do with what you have. Working with people you have never met before, each with their own ideas. All of whom are following instructions based on ideas that change and evolve as you progress. Soaked to the bone, blisters on your feet, exposed on the hills with no shelter, freezing cold, late nights and early mornings. For all involved this was a hard 2 weeks of none stop, gruelling and laborious work coupled with something that has never been done before on this scale. However, ask any one of them and they would do it again in a heartbeat.
Isolated teams built the track in some stunning locations.
Silver Lady's progress was slow and steady, a quick walking pace at best. By our estimates beforehand, walking pace is about 3 mile per hour and Silver Lady runs around 30 minutes or so on one fill of gas, water and oil. Let's say 2 refills per hour and taking off some time for a pit stop, she should be capable of 1.5 to 2 miles per hour. Allowing for the odd mishap over a 6 to 8 hour day at 1 and a half miles per hour, 8-11 miles should be possible each day. In the beginning this was not happening for a number of reasons. On my first day, the loco didn't start till gone 1pm whereas day two was slightly better and closer to 11am. Why? This was mainly down to the logistics of getting everything and everyone in place. It really wasn't as simple as you might think.
With uneven ground and a top heavy loco on what is effectively narrow gauge track, rocks, boulders and holes became the biggest downfall for stable and consistent running. Wedges and packing pieces were used but soon ran out. The simplest method available was to firmly grab the track, push it down into the dirt and wiggle side to side until it found its own level. This was the job of the advanced track team ahead of the loco, along with removing debris, damaged sections and infilling the gaps left by the track building teams for public access. Later came the sticks and poles as this too was taking too long for the distance we had to cover.
Each train crew had to be shown what to do starting with the basics and like driving a car, it took time to get the hang of. When those with more experience came along, this made a vast difference and we started to cover the miles. Experienced or not, we all had our own specialist skills and almost all were chosen for that reason, yet every single one of us was learning as we went along.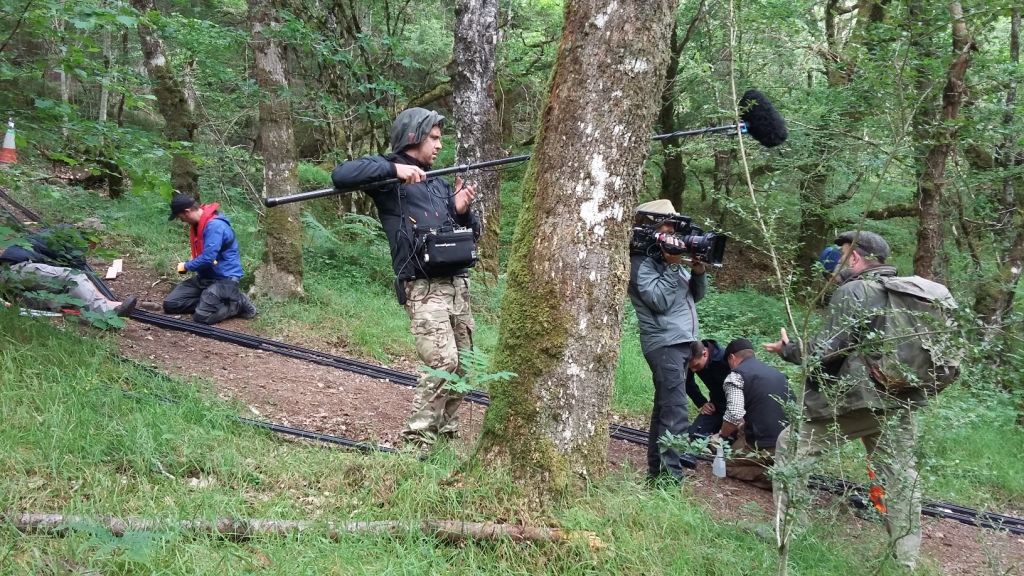 Running teams were swapped out regularly until the later part of the journey.
Some have likened the plastic track to slot car track but there was more to consider than simply expense. 70 plus miles of track was needed. Think of the weight, how was it going to be moved? Eleven articulated lorries dropping loads at various locations. Then think where it was going - along hiking trails, towpaths and main roads. Extruded plastic is what made this possible as it held little scrap value and was unlikely to be stolen when you turned your back. It had to be laid days in advance and should be quick to join together. Being produced in 3 meter lengths, with reduced and simplified joints helped to cover a lot of ground very quickly. 70 plus miles was constructed and laid down. It was not relayed along at any point, although there were some occasions when track was taken from behind the loco to replace damaged or missing sections up front. You had to be resourceful and think on your feet but we didn't cheat - track and loco covered the entire distance.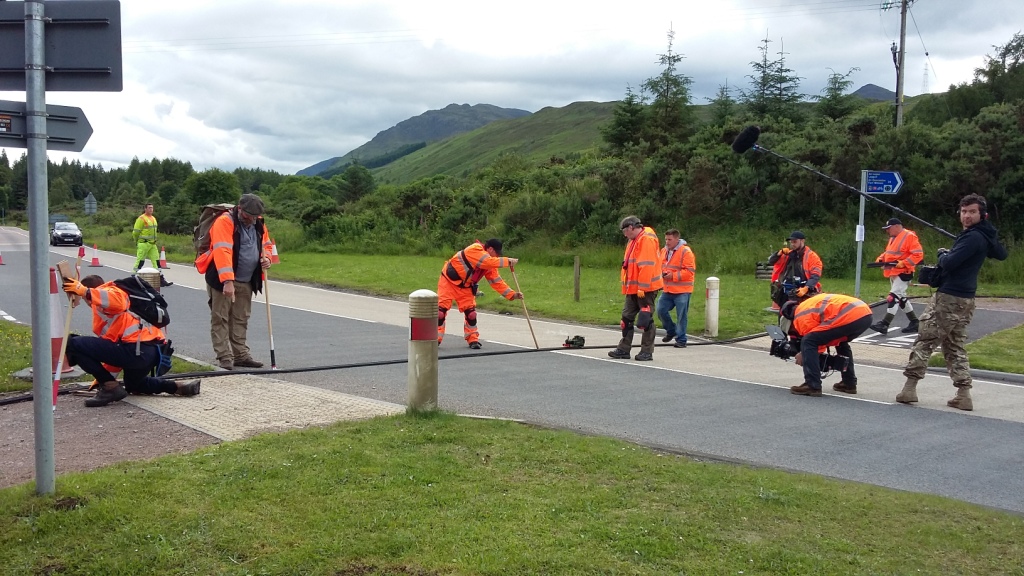 Health and safety was foremost throughout
Was it a put on or part of the script? Be assured it wasn't a set up and there was clear plan to get our little steam engine from one side of Scotland to the other. What you see is the reality of the challenge that we faced. Various routes and locations had been looked at beforehand, with this one clearly being chosen for the challenges, the history helping to make a story and also the sheer craziness of it. There was a team that went out and surveyed the route beforehand and even tested locomotives on the gradients supplied by alternate providers. I'm led to believe they failed, hence the call to Roundhouse. The bridges, hills and terrain all added to the story. We did follow it through from A to B, we didn't jump back and forth as some have suggested and at the end of each day the track was marked where the loco had stopped. The next morning it started from that same marker. Some of the more important parts were shot several times over to get better angles or drone coverage etc. There was also a special ops camera crew that would go from one place to another using cameras on flat trucks pushed by our Little John battery diesel as well as other little tricks. Reluctantly Little John even stepped in for some parts of the main run to Inverness either to help make up some time or to give me the chance to service Silver Lady. When we were running for almost 24 hours at a time, I had to take a rest at some point and Little John allowed them to keep going.
The specialist build teams had the task of overcoming the major obstacles using the materials and tools supplied. Having seen some of the marvels of 'The Biggest Little Railway' I think this has been a big part of what made this challenge into something special and different from others before it. Regrettably I never did see the viaduct and I too would have liked to see Silver Lady cross it. I hear you say "But a steam engine did cross it in the clips we've seen". This was a Lady Anne supplied by us, used to test some of the structures and track sections ahead of Silver Lady herself. Lady Anne can be also be seen in the footage where Claire is back at camp testing the idea of the Helix running up some wooded blocks and a park bench.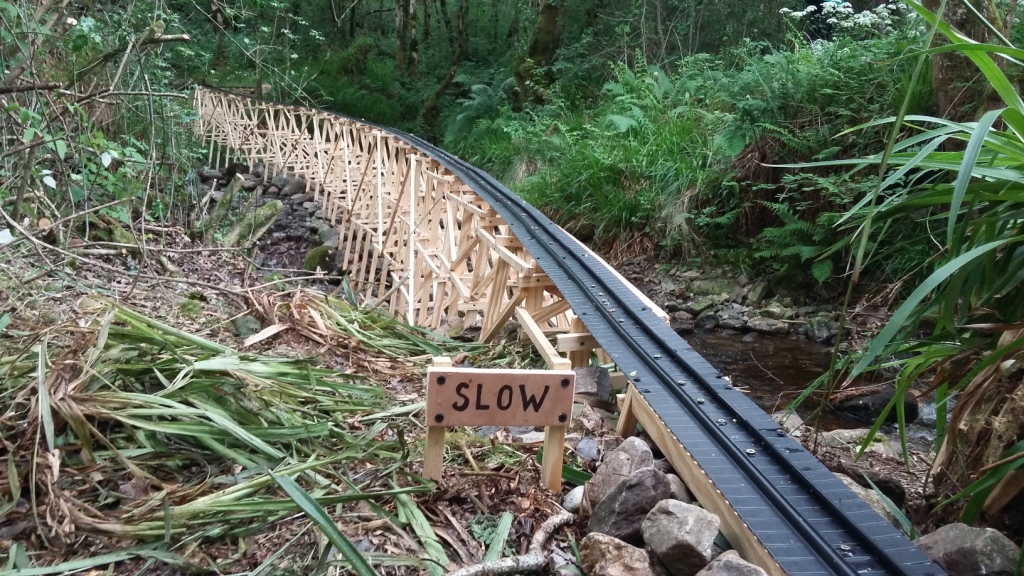 The amazing trestle bridge build
For those not in the know, Lady Anne is the forerunner to Silver Lady and has been produced by Roundhouse since the company started in one form or another. It was for the 25th Anniversary of Roundhouse Engineering that we decided to produce a deluxe version of Lady Anne and adding some extra features this became Sliver Lady. It was because of these new features that she was best suited to this adventure.
Aside from being boiled dry twice and dunked in the canal, Sliver lady became quite adept at summersaults, hand stands and barrel rolls, picking up a lot of grit and dust from the pathways in the process. Mixed with the oil this acted like a grinding paste accelerating any wear. Considering all this and more she was just taking it in her stride. Two RC transmitters were replaced due to rain getting into the electrics. One reversing servo was replaced due to wear and tear. The on-off switch was also replaced but this was down to the weather, not her swimming lesson. Several screws and pins were lost due to her acrobatics with bent connecting rods and slide bars being straightened as we went along. Coupling rods and connecting rods were replaced around day 5 or 6 due to the amount of grit that had been picked up. One thing I was running short of was one of the simplest items - some silicone tube required for the water top up valve. This was collecting a lot of dirt from the gravel paths and was replaced regularly. I even lost some in the wood so had to acquire some from elsewhere later in the day.
The other thing becoming a problem was the wear on the expansion link bushes, something not easily replaced in the field and we had no spares to hand to replace them. To get around this I had to think outside the box, advancing the timing for running forwards, allowing us to finish with the same loco that started and had run the majority of the route. Each and every night her chassis was washed down with an aerosol oil and bearing lubricant and she was also given a good once over making for some very late nights. She has taken a real bruising more so than anyone had expected and has come out the other end with her head held high. Currently resting her weary wheels and aching joints here at the factory she still runs and I have no doubt that with a few parts and bushes being replaced she would be capable of more...just ask anybody who owns a Roundhouse loco.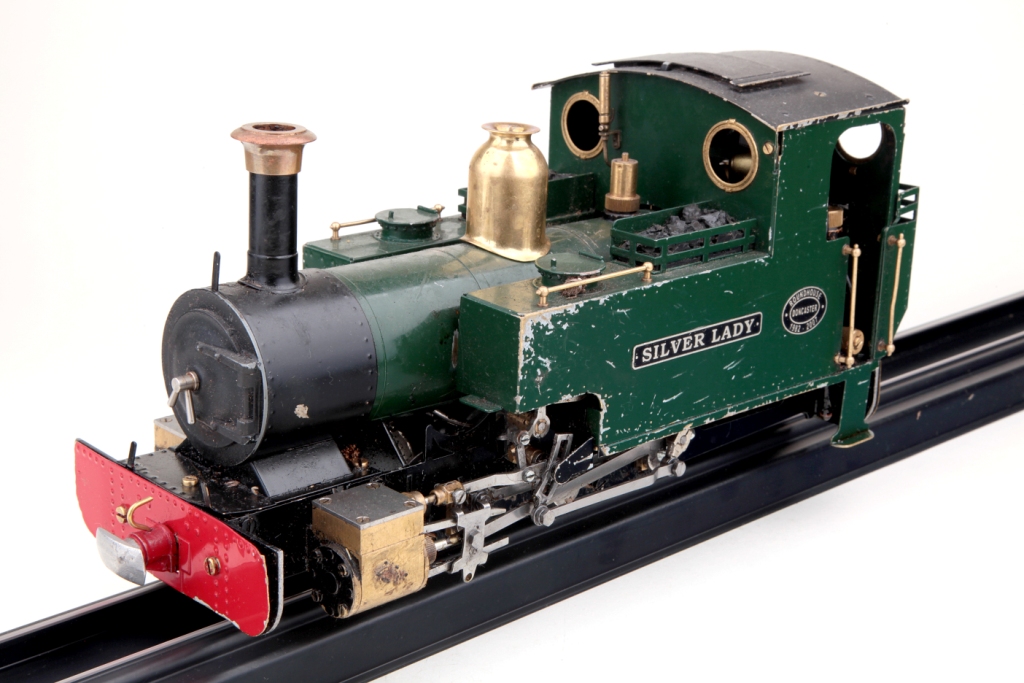 Beaten but not broken, the Silver Lady returns home.